Welcome to Spring and Smart Box Design's Newsletter
In our last newsletter, we celebrated St. Patrick's Day and now we are celebrating spring. Back by popular demand another exciting WordPop longest word contest. Plus a fun review of the wrangler simulation game Westward. There are always great ways to keep entertainment in your life, and we'd like to be your source for it!
---
Review: Westward Brings the Frontier to Your Home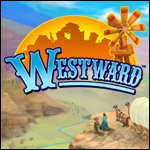 Those of us who were raised on Legos know that building things can be very satisfying. Moreover, those of us raised on SimCity know that keeping our cities up and running can be just as fun. Like any good strategy game, Westward includes an excellent tutorial that gets you started and leads you through the details until you're ready to stake a claim on your own.

By the time the tutorial cuts you loose to try pioneering on your own, you'll have a whole wagon full of curiosity built up around what you could be building and who will come to your town.

Westward keeps you occupied with goals to strive towards and holds your attention with humor, colorful graphics, fluid animation, and superb sound.

Buy and try Westward Online through our website!

---
Contest: Win a Palm or Pocket PC Game with this Word Puzzle

To the right is a screen shot of WordPop, our best selling word game. Try to find the longest word you can, and then submit it to our forum. Just like the rules when you play WordPop on your device, each letter in the word must be adjacent to the next, for example, RENT.

- The player who submits the longest word wins a copy of a Smart Box Design Game (if a tie then the first one to submit wins)
- Two random winners will be picked from additional submitted words
- Contest ends April 14, 2007
- Winners will be announced in the next newsletter and / or e-mail (make sure to register at the forum so we have your e-mail on record)
- We're looking forward to seeing your words


---
Improvements: New Web Store with PayPal
Ordering games has never been easier or safer. The Web store now has the following changes.

1. All major credit cards are accepted
2. You can purchase with PayPal
3. Each step is simpler and streamlined
4. See savings up front as coupon discounts are shown in the first step

---
Farkle vs. Yahtzee Contest Winners
We loved the comments and insightful comparison. My favorite quote from J Girl was, "Farkle is sooooooo addicting. I love it. I have to admit I play it when I'm driving, of course only when I'm at a stop light."

Congratulations to all the winners.

The fastest post:
jmjohnson

The two random winners are:
kjojames and Cer

If you have not already contacted me for your prize, please do so by replying to this newsletter.


---
Resource: Palm Addict BLOG on Palm OS and Windows Mobile Devices

I think many of us read People Magazine, even if we don't admit it, because it is fun to peak into other's life and relate it to our own. Palm Addict is just as fun.

In Palm Addict you read how people are using their PDA's and Smartphones in their lives. There's the doctor who describes tracking patients, there's the jet set executive who is tracking all aspects of his life, there's the soccer mom who catches a few games on her Treo while waiting to pick up the kids.

Palm Addicts also has video casts where Sammy describes and shows off software and hardware. It is a ton of fun watching him.

Give Palm Addicts a read today.
---
Thank you for being a loyal Smart Box Design Member. We rely on word-of-mouth to spread the news about our games. If you think your family and friends would have fun playing our games, please pass along this newsletter to them by using the convenient email link below. Their email will not be added to our list or used in any way. We promise.

Best regards,

Todd Sherman and the Smart Box Design Team